Hi, My name is Thari Zephaniah. I had the incredible opportunity to be one of the first Software Engineer Interns hired by Mercari India. In this post, I will be taking you through my entire journey, starting from the initial interview process all the way to receiving a Pre-Placement Offer (PPO).
Motivation
To tell you a little bit about the company, Mercari is an e-Commerce company where users can buy and sell products. Since my sophomore year, I've been keen on Mercari. It has grown into Japan's largest community-powered marketplace, with more than 250 billion yen GMV in the 3Q of 2023. It quickly became an aspirational company due to the positive feedback and highly commendable experiences shared by my seniors who Interned at Mercari, Japan.
Internship Application
One usual day in November, while engrossed in my routine LinkedIn browsing, I stumbled across an announcement from Mercari India: They were hiring Software Engineer Interns. A surge of excitement washed over me. This was it – the moment I had been eagerly waiting for!
Taking into account my previous application experience with Mercari Japan, where I was, unfortunately, unable to progress beyond the second round, I was determined to present the best version of myself this time, I got my resume reviewed by one of my seniors to enhance my chances. Equipped with their constructive feedback, I was ready to put my best foot forward.
I approached the application process via a referral, confident of the personal touch it would echo in my candidature. This whole process began in November, and patience became my close companion as the process took somewhat longer than anticipated. This delay was because of the fact that the HR setup wasn't still consolidated in India during the internship opening, leaving the Japan team to manage the application process.
First Round – Online Assessment

A month into the application process, at the end of December, I received my Online Assessment Test. The test comprised two medium-difficulty questions. Given my extensive experience with Leetcoding, the test seemed rather straightforward to me. Even though the stipulated submission time was a lenient span of two weeks, my motivation led me to complete and submit it within the first day itself. Following my assessment submission, there was a period of anticipation as the team took about another month to revert to the Interview Schedule. 
Second Round – Technical Interview

The technical interview process at Mercari India is one of the best interviews I have ever experienced. Unlike other companies that heavily focus on Data Structures and Algorithms (DSA), Mercari India takes a more holistic approach. While they do care about DSA, they place equal emphasis on personal projects, previous internship experience, and development-related questions.
What made this interview particularly impressive was that the interviewers didn't rely solely on a standard question bank. Instead, they took the time to understand my resume and tailored the questions to align with Mercari's requirements. This personalized approach made the interview feel like a genuine discussion rather than a typical formal interview. This is a practice I believe all interviewers should adopt, as it not only puts the candidate at ease but also helps them answer questions more effectively.
I had the opportunity to be interviewed by two senior software engineers, one of them being the first Software Engineer in Mercari, India Anandha Natarajhan Shanmugam Poonkunran(with whom I am currently working with) , and the conversation flowed smoothly. We discussed a range of topics related to my previous internship experience, personal projects, and also many Backend Related Questions which ranged from Designing an API to Database Questions like CAP Theorem. Since some aspects of my previous internship were relevant to a team at Mercari, there were several questions on that topic as well. This level of consideration and engagement made me feel confident that I had showcased my skills and knowledge effectively.
Third Round – Managerial Interview
Upon reaching out to the HR department for an update on my application status, I was informed that they would revert back within a week. This kept me on my toes and had me refreshing my email inbox every morning. On the third day, just as I was about to delve into a normal day of my then-ongoing internship, I was greeted by an email detailing my scheduled managerial round of interviews at Mercari.

I was filled with a sense of relief as I entered the next round of interviews, which turned out to be a stimulating discussion with an Engineering Manager at Mercari India. This conversation went beyond just evaluating my technical skills; it delved into assessing my cultural fit, which is highly valued in Mercari's hiring process.
Following the interview, I felt confident in my performance and held onto hope for securing the Internship opportunity. A few days later, the recruiter arranged an informal meeting to discuss the role and confirmed my selection.
Offer Letter
Despite the recruiter confirming my selection, there was a delay in receiving the offer letter. My Internship was scheduled three months later. However, even during this waiting period, the newly formed HR Team at Mercari India maintained contact with me and organized sessions like "Get-To-Know your team" with the members I would be working with during my Internship. And yeah, after a long wait, I finally joined the TnS(Trust and Safety) Team.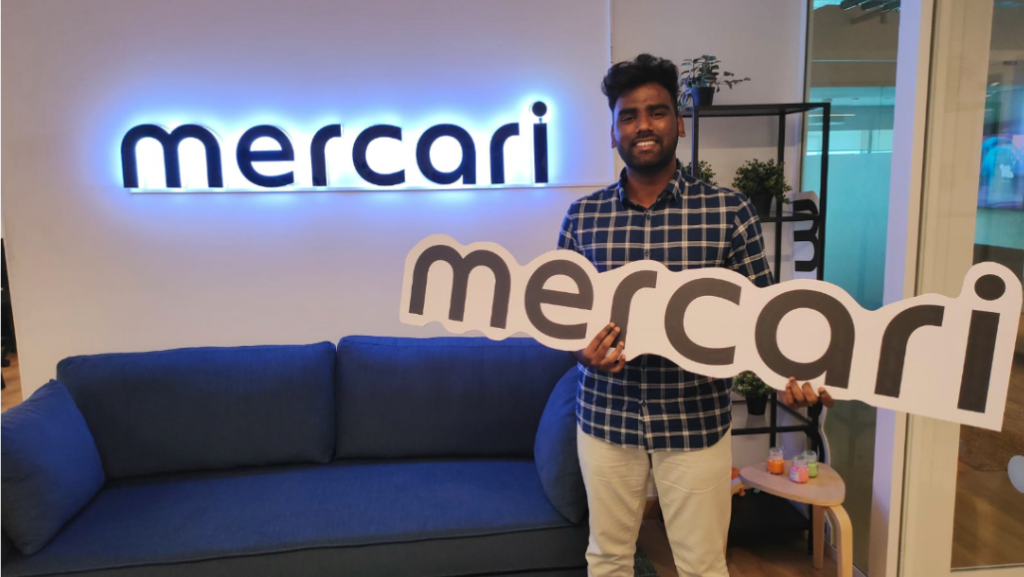 Internship Experience
Kicking off with an intensive two-week onboarding process, I was soon fully included in the team's OKRs (Objective Key Results) without even realizing when the transition happened. This smooth initiation instilled a sense of joy in seeing my mark on some impactful projects despite my intern status, reinforcing my belief in Mercari's collaborative work.
The Tech Stack at Mercari stands out as one of the best I have worked with, even after interning at several companies. Golang is predominantly used for writing backend microservices, chosen for its exceptional efficiency and performance. During my internship, I had the opportunity to work on a backend microservice that executes whenever an item is listed on the marketplace app. And trust me, there are more than 1,000,000 items listed on Mercari Marketplace every single day. This made me extra cautious in coding and feature development to ensure a robust implementation.
Throughout my time at Mercari, I received unwavering support from every team member, including my manager, mentor, and team lead. Rather than simply providing me with the answers, they guided me when I encountered difficulties, fostering an environment of accessibility and openness. This approach transformed challenges into valuable learning experiences, making each day at Mercari truly fulfilling.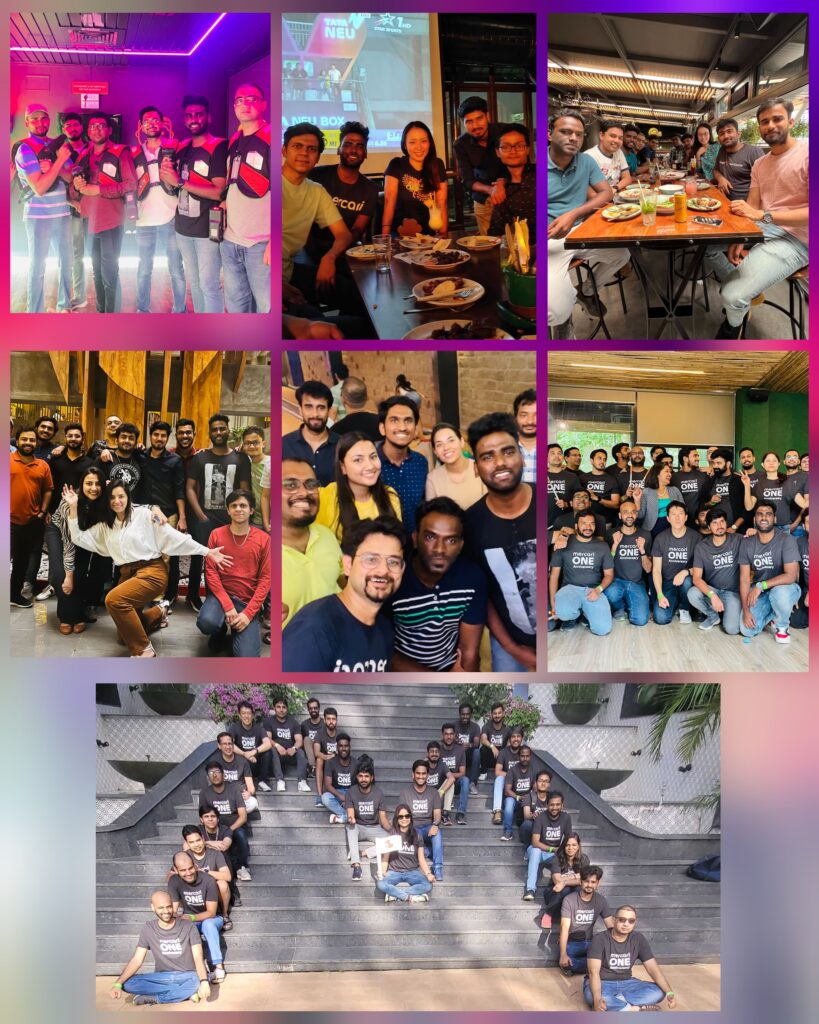 Even in the midst of a steady stream of tasks, Mercari never lost its spirit for celebration. Whether it was welcoming a new team member, organizing a team outing, or celebrating personal milestones or accomplishments of individuals, the company always embraced the joy of collective celebration, balancing its work rhythms with heartwarming cheerfulness.
Internship to FTE Conversion
Being part of the first-ever intern batch at Mercari India brought with it an air of excitement and anticipation. During this critical period, I maintained constant communication with my manager and the HR team, ensuring that I was on the correct path and familiarizing myself with the progression process. I learned that my manager's feedback and how my peers perceived my work would play a significant role in any future prospects.
As I edged closer to the finish line of my internship, the HR team arranged another interview with the Site Lead of India. Though reminiscent of my previous interview with the Engineering Manager, this encounter held a higher level of intensity and broader scope. Nevertheless, I successfully navigated the round, answering all the questions confidently. And my instincts told me that I had done well.
Three days following this rigorous interview, I received news that evoked great joy. I had been offered a full-time position at Mercari India. To say this was a rewarding conclusion to my incredible internship journey would be an understatement. I am looking forward to working in this Amazing Company as a Full Time Engineer.
Mercari India is still in the growing phase and is always ready to welcome passionate and amazing developers
Do keep a lookout on our
Career Page https://about.in.mercari.com/join-us/
Linkedin https://www.linkedin.com/company/mercari-india
If you have any queries, feel free to reach out to me on Linkedin https://www.linkedin.com/in/thari-zephaniah/